Navigate the Holiday Season with more Peace and Ease
Introduction to Body Intelligence, Neurobiology and Trauma
An Online Workshop for People Dealing with Trauma or Chronic Stress
Presented by Imogen Ragone and Shay Seaborne
Monday, December 6, 2021
6:30 – 8:00 pm US Eastern Time
Zoom
REGISTER NOW
Only 1 spot left! Registration closes two hours before the workshop.
Holiday anxieties on your horizon? 
Does even the thought of holidays bring a feeling of tension?
You are not alone. Many people struggle this time of year with the stresses of holiday bustle, prospect of visits with family, office parties, and memories of holidays past. 
Fortunately, body intelligence and neuroscience can help us navigate the holiday season with more peace and ease.
As the holidays approach, have some of the following got you anxious this year?
Gift exchanges

Difficult relatives

Loneliness

Travel

COVID restrictions

Lack of COVID restrictions

Financial worries

Memories of holidays past

Office parties

All the things you have to do to make the holidays "perfect!"
Whatever your particular worries and triggers, you have a nervous system and it needs regulation. Life is better with a regulated nervous system, enabling you to cope better with your stressors and make better decisions.
A basic understanding of neurobiology and body intelligence offers relief.
In the workshop you will:
Learn the basics of the body-mind connection and how to use this knowledge to your advantage.
Understand key concepts from neuroscience in a simple, practical way that supports trauma recovery and stress relief.
Practice simple exercises based on neuroscience to regulate your nervous system and relieve stress.
Interact live with Imogen, Shay and other participants to learn, discuss and explore in a supportive and safe online space.
After the workshop you will receive:
Access to the recording of the workshop for you to review and have as a resource.
A handout to help you remember what you have learned, and that you can share with others.
As a survivor of Complex Trauma I am especially grateful for Imogen's beneficial influence in my life. Over the past four years as her student I have been consistently impressed by how much of Imogen's work is backed by the neuroscience of trauma and especially helpful in resolving it. Developing the ability to tune into my body has been key to my recovery. I need to listen to my body and recognize what it needs and likes. This fosters the sense of well-being from which better health arises. With Medical PTSD I find these tools and techniques indispensable during medical or dental appointments. I also benefit greatly from the holistic effect these practices have on my daily quality of life. The bonus is Imogen's remarkable ability to figure out ways to integrate the learning into daily practices that orient my nervous system away from threat detection and protection and toward safety and connection, which heals the traumatized nervous system.
– Shay Seaborne, CPTSD, Trauma Awareness Activist-Artist
Most of us get anxious around holiday parties and family, so stress is a given.
The important thing is not to get stuck there.
According to Complex Trauma Specialist, Deb Dana, LCSW, "A regulated nervous system…brings flexibility, which brings resilience…a regulated system…can dysregulate and come back to regulation."
In this workshop Shay and Imogen will introduce you to a portable, discreet, use-anywhere tool that invites ease and helps you build, or rebuild, a healthy nervous system – a regulated nervous system.
"A regulated nervous system provides you with the energy, resources, and drive to do what you're meant to do on the planet."
– Irene Lyon. MSC, Nervous System Expert
With Imogen and Shay's expert guidance, you'll leave the workshop able to tap in to your own body's intelligence, better regulate your own nervous system, and live with greater ease and joy.
Imogen's practices have helped me to bring more ease into my life by learning to make different choices for myself that can reduce pain and anxiety. The opportunity to practice virtually alongside other students has been a gift, particularly during times of stress and isolation. Thank you, Imogen, for all of the support, laughter and lessons. I offer her my highest recommendation.
Tracy Hough, BodyIntelligence Client
Shay's personal journey with trauma and recovery and practice of regulating her own nervous system has…left her more highly qualified than any mainstream education could provide. Shay is one of the most inspiring experts in this field I have encountered.
Fiona Mclennan, Creator and Teacher of Somatic Intelligence
Workshop Details:
This introductory workshop is 1 ½ hours long and will take place online using Zoom. 
Date: Monday, December 6, 2021
Time: 6:30 – 8:00 pm US Eastern Time (Click here to find your time zone here.)
Workshop Cost:
We have a 3-tier cost structure. Please choose the one that best suits your circumstances:
Abundance: $50
I am happy to pay more right now to help support those who cannot.
Basic: $35
I am able to pay the basic workshop fee.
Minimum: $10
I am economically challenged at the moment.
After you register you will receive a link in the confirmation email to make the payment of your choice. If you can afford more, your contributions are greatly appreciated, and help support others who cannot.
Limited to 10 participants.
REGISTER NOW
Only 1 spot left! Registration closes two hours before the workshop.
---
Meet your Hosts!
Imogen and Shay have been working together for over four years, starting when Shay came to Imogen as a client. Over time, as Shay studied neurobiology and neuroscience to help her understand and resolve PTSD, she increasingly understood that BodyIntelligence provides a very neuropositive approach and practice. It has been extremely helpful to Shay and is one of her core resources in helping her rebuild and regulate her own nervous system.
As they continued to work together they also became good friends, sharing an excitement over the neuroscience that backs up the simple and profound practices of BodyIntelligence and Alexander Technique concepts and principles.
This workshop marks the beginning of a collaboration to offer workshops and courses for people dealing with trauma or chronic stress. Shay's experience as a trauma survivor and her understanding of the neuroscience relating to trauma will be paired with practical tools and concepts from Imogen's BodyIntelligence work.
Imogen Ragone, M.AmSAT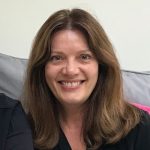 Imogen Ragone has been a certified teacher of the Alexander Technique for 15 years, and a student for over 20 years. She initially came to Alexander Technique to help her with chronic neck and shoulder pain and tension. It did – and gave her MUCH more than she ever imagined. Imogen has now developed her own unique approach, BodyIntelligence, that offers a path to embodied mindfulness that is gentle and non-coercive. This means it is more accessible and effective when you are feeling stressed, and makes it especially valuable to traumatized people. Imogen was born and raised in England, and has lived in the US now for 30 years. She has been successfully working with clients online, both individually and in groups, since 2014.
More about Imogen and her work:
Website: imogenragone.com
Facebook Page: BodyIntelligence with Imogen Ragone
Facebook Group: BodyIntelligence Community
Shay Seaborne, CPTSD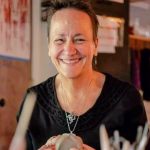 Former tall ship sailor turned trauma awareness activist-artist, Shay Seaborne, CPTSD, has studied the neurobiology of fear, trauma, and PTSD for seven years. She writes, speaks, and makes art to convey her experiences as well as her understanding of the neurobiology of fear, trauma theory, and principles of trauma recovery. A native of Northern Virginia, Shay settled in Delaware to sail KALMAR NYCKEL, the state's tall ship. She wishes everyone could recognize PTSD is not a mental health problem, but a neurophysiological condition rooted in dysregulation. Our mainstream culture is neuro-negative, and we need to understand we can heal ourselves and each other through awareness, understanding, and safe connection.
More about Shay and her work:
Website: shayseaborne.com
Facebook Page: Trauma Aware America
Facebook Groups: Trauma Aware America Group  and Patients for Trauma Awareness
Instagram: @shayseaborne_cptsd
Only 1 spot left! Registration closes two hours before the workshop.