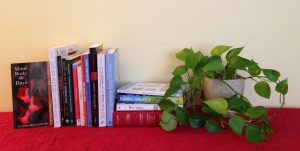 My book club first started meeting in January of 2013. We're an informal group who meet approximately every other month to discuss a book about self-development, productivity, well-being and other inspirational themes. We have delved into vulnerability, presence, the body-mind connection, the Alexander Technique, and how to create and change a habit.
We have enjoyed reading books such as Thrive by Arianna Huffington, Quiet by Susan Cain, Rising Strong by Brené Brown, Better Than Before by Gretchen Rubin, and many more (see full list at the bottom of this page).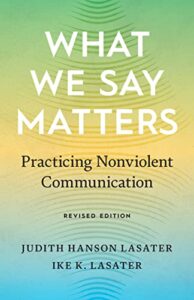 Our current book is What We Say Matters: Practicing Nonviolent Communication by Judith Hanson Lasater and Ike K. Lasater.
From the blurb:
Learn how to communicate with compassion and choose language that reflects your personal values and aims with this essential guide to Nonviolent Communication.
Judith Hanson Lasater and Ike Lasater, long-term students of yoga and Buddhism, had studied the concepts of satya (truth) and the Buddhist principle of right speech for years but it was not until they began practicing Marshall Rosenberg's techniques of Nonviolent Communication (NVC) that the concept of speech as a spiritual practice became real for them. 
In What We Say Matters, the authors describe their personal journey through NVC, and detail how speech becomes a spiritual practice when you give and receive with compassion all the time–at home, at work, and in the world. They introduce the basics of NVC with clear explanations, personal examples, exercises, and resources. Some of the skills you'll learn include: 
Extending empathy to yourself and others 

Distinguishing between feelings and needs 

Making requests rather than demands  

Creating mutually satisfying outcomes 

And many more
What We Say Matters is available from Barnes & Noble, Amazon, and most other bookstores. If you order through bookshop.org it will connect to your local independent bookstore.
The BodyIntelligence Book Club is free to join, and we currently meet on Zoom. We are a small, informal group and the discussions are free-flowing! The only cost involved is the price of the book/s. If you're interested in joining, or simply want to find out more, please get in touch. Guests are welcome.
The Book Club also has a virtual presence within my Facebook group, the BodyIntelligence Community, where I post about the books we read. It also allows for discussion between meetings, and for people anywhere in the world to join in. The group's main focus is self-care and personal development, which ties right in with the subject matter of the books we read.
Please click here, if you'd like to join the BodyIntelligence Community Facebook group.
Next Meeting:
Thursday, April 27, 2023
7:00 – 8:30 PM US Eastern Time
Zoom
Past books we have enjoyed: 
Wintering: The Power of Rest and Retreat in Difficult Times by Katherine May
Bodyfulness: Somatic Practices for Presence, Empowerment, and Waking Up in This Life by Christine Caldwell
Fierce Self-Compassion by Kristin Neff
Atlas of the Heart: Mapping Meaningful Connection and the Language of Human Experience by Brené Brown
Think Again: The Power of Knowing What You Don't Know by Adam Grant
Burnout: The Secret to Unlocking the Stress Cycle by Emily Nagoski and Amelia Nagoski
Talking to Strangers  by Malcolm Gladwell
Little Fires Everywhere by Celeste Ng
The XX Brain: The Groundbreaking Science Empowering Women to Maximize Cognitive Health and Prevent Alzheimer's Disease by Lisa Mosconi
Happy: Why More or Less Everything Is Fine by Derren Brown
The War for Kindness: Building Empathy in a Fractured World by Jamil Zaki
Tell Me More by Kelly Corrigan
Blink: The Power of Thinking without Thinking by Malcolm Gladwell
The Life-Changing Magic of Tidying Up by Marie Kondo
When: The Scientific Secrets of Perfect Timing by Daniel Pink
Emotional Agility by Susan David
Presence by Amy Cuddy
How the Body Knows Its Mind by Sian Beilock
Thrive by Arianna Huffington
Quiet by Susan Cain
Rising Strong by Brené Brown
Better Than Before by Gretchen Rubin
Body, Breath and Being by Carolyn Nicholls
Befiddled by Pedro de Alcantara
Change Your Posture, Change Your Life by Richard Brennan
Master the Art of Working Out by Malcolm Balk and Andrew Shields
The Gifts of Imperfection by Brené Brown
Principles of the Alexander Technique by Jeremy Chance
Natural Posture for Pain-Free Living by Kathleen Porter
How You Stand, How You Move, How You Live by Missy Vineyard
Indirect Procedures: A Musician's Guide to the Alexander Technique by Pedro de Alcantara
Body Learning by Michael Gelb
Be In Balance by Angela Bradshaw
How to Think Like Leonardo da Vinci by Michael Gelb
F. Matthias Alexander: The Man and his Work by Lulie Westfeldt
Daring Greatly by Brené Brown
The Open Focus Brain by Les Fehmi and Jim Robbins
The Happiness Track by Emma Seppälä
Big Magic by Elizabeth Gilbert
Get Some Headspace: How Mindfulness Can Change Your Life in Ten Minutes a Day by Andy Puddicombe
Non-Violent Communication by Marshall B. Rosenberg
The Power of Kindness by Piero Ferrucci
The Sweet Spot: How to Find Your Grove at Home and Work by Christine Carter
Back in Balance: Use the Alexander Technique to Combat Neck, Shoulder and Back Pain by Richard Brennan
First Impressions: What You Don't Know About How Others See You by Ann Demarais and Valerie White
Option B, Facing Adversity, Building Resilience, and Finding Joy by Sheryl Sandberg and Adam Grant
Self-Compassion: The Proven Power of Being Kind to Yourself by Kristin Neff
Braving the Wilderness by Brené Brown
Positivity by Barbara Fredrickson
Bliss: One Hero's Journey by Gary Ramsey
Calm Clarity: How to Use Science to Rewire Your Brain by Due Quach
The 7 Laws of Enough: Cultivating a Life of Sustainable Abundance by Gina LaRoche and Jennifer Cohen
Livewired: The Inside Story of the Ever-Changing Brain by David Eagleman
Happiness Becomes You by Tina Turner