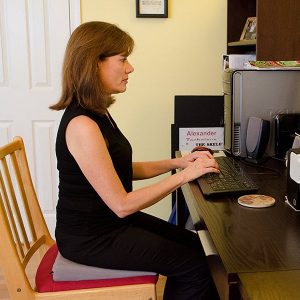 I also offer coaching sessions online using video conferencing for people unable to work with me in person. There are many people who are not able to work with  an Alexander Technique teacher in person, and an online coaching session is a great alternative.
During coaching sessions you will:
Get one-on-one instruction to address individual needs.
Develop a more accurate awareness of mind and body.
Become familiar with practical thinking processes to improve your functioning.
Learn to bring more ease and improved coordination to simple, everyday movements and positions, such as sitting, standing, walking, bending and reaching.
Learn how to use lying down in Constructive Rest as a way to unravel stress.
Learn to prevent harmful habits of tension and movement.
Apply what you've learned to activities of your choice, such as working at the computer, giving a presentation, chopping vegetables or exercising.
"Learning the Alexander Technique through online coaching with Imogen has been an invaluable experience. I began my journey due to hip pain and was actually scheduled for surgery when I started my lessons. I combined Imogen's coaching with physical therapy and massage, and the results have been amazing.  Surgery is no longer in my future. I believe without the Alexander technique I would never have discovered how much the way we think controls the way we use our bodies. Imogen integrated all of the concepts of the technique while still taking time to focus on my specific issue. I have also carried my Alexander coaching directly into my work as a dentist…a very physically demanding profession on the body. I have experienced significantly decreased back and shoulder soreness, fewer tension headaches, and more joy in my work! I would highly recommend online coaching with Imogen to anyone that is interested in the Alexander Technique."
—Erin Rhodes, dentist in Hattiesburg, Mississippi
"I have had severe neck problems my whole life, and they got worse after a recent fall. Although I've seen several medical doctors about the issue, the only thing that has helped me to feel better has been learning Alexander technique with Imogen. I highly recommend her. She has a wonderfully soothing manner and is very attentive to her clients' specific needs. Even on Skype, she was able to observe my movements and give me truly helpful suggestions for reducing unnecessary muscle tension, as well as simple methods to reframe my internal thoughts and redirect my attention to different parts of my body. I have been telling everyone I know about Imogen and Alexander – I wish she lived closer to me so that I could work with her more frequently. In fact, after going through a guided constructive rest experience with her in person, I wished she lived in my house and could do that with me every day!"
—Nancy Rehm, High School Teacher in Gettysburg, PA
"I have benefited enormously from Skype coaching with Imogen.  Over the course of our sessions she has helped me gain a much greater awareness of how I am using my body, and I have really noticed a greater ease in a wide range of activities.  Before beginning the sessions, I was unsure how much we could achieve without hands-on contact, but I have been very impressed how Imogen can observe my movements and habits and guide me to a much greater self-awareness.  She has an encouraging and gentle manner, together with a high level of professional expertise, and I wouldn't hesitate in recommending her as an Alexander teacher."
—Catherine, UK
"During the last session, I think there were two light bulb moments. The first was that letting go of tension would result in good posture rather than (or in addition to) the other way round, and the second was the realization that I probably haven't been breathing into my upper back for many years now, and that this could potentially reduce any tension and discomfort I feel. I also realized that I could work with my natural posture, rather than having to reshape it." 
—Emma, translator based in France
"Thanks for the session—it was very helpful. The biggest takeaways were (a) general awareness of myself in space in relation to screen and keyboard, and overcoming the idea that there's a huge "gap" between myself and the keyboard that I have to bridge; (b) scrunching up does not equal greater focus or effectiveness—quite the opposite!; (c) importance of using a variety of freedom directions as I write."
—Dr. Joseph Mangina, professor of Theology, Wycliffe College at the University of Toronto
"My comfort level increased during the session and I continue to feel better when sitting at the computer. The idea of focusing on the less tense areas is very powerful, and one I will remember to practice periodically."
—Retired CFO, Shell Oil Co., Santa Ana, CA, USA
More Information
Contact me for more information, pricing and other details, or to schedule your first appointment.