Program starts: Monday, July 13, 2020
Registration Now Closed
Contact Imogen for information on the next program.
How would your day change if you had an effective way to deal with stress – physical and emotional?
How would your week change if you could reliably release excess tension from your body?
How would your life change if you felt more confident, comfortable and at ease with your whole self?
The group coaching helped me make breakthroughs I couldn't have imagined! Recently I handled an awful dentist appointment, the death of my father, and a surprise biopsy that was painful and upsetting. But because I had learned how to incorporate ease into my daily life and developed it as my go-to tool, I was able to stay present and pretty much calm through all. Thank you, Imogen!
Shay Seaborne, Past Participant

In the BodyIntelligence Essentials Program you'll learn core principles of the Alexander Technique and practice the unique skills that allow you to approach anything life throws at you with more ease.
The BodyIntelligence approach offers a path to embodied mindfulness that is gentle and non-coercive. This means it is more accessible and effective when you are feeling stressed, and makes it especially valuable to traumatized people.
Through this deep transformational learning process, you will understand how to:
Let go of excess tension in your body
Release harmful patterns that cause you pain
Calm your nervous system at those critical moments…
You'll learn a step by step method to help you cultivate more ease, flow and comfort in your body – and your mind – so you can:
Move more freely and easily in everyday activities, your workouts, walking, and more.
Speak more authentically, powerfully, and confidently in any situation.
Be more productive as you interact with your computer, phone and other devices with less stress and strain.
Discover your agency and the choices you have in what you do and HOW you do it.
Apply the principles to any activity or situation in YOUR life!
By cultivating these skills you'll not only have a go-to process you can use in any situation, but also will change for the better the baseline level of ease from which you operate ALL the time.
That's better for you AND everyone around you.
"The class was really helpful in handling the aches and pains I experience regularly involving movement and posture. I also learned that the principles can apply to many other daily situations in life to make it less stressful and easier to deal with."
Andrea D., Past Participant
Registration Now Closed
Contact Imogen for information on the next program.
---
The Program includes:
♦ SIX [6] LIVE Online Small Group Classes
Classes take place on Mondays, 3:30-4:30 PM Eastern (click here for your time zone) using Zoom video conferencing.
We will meet on: July 13, 20, 27, August 3, 10, 17
♦ Live Coaching
Each class is led by Imogen, and includes live teaching, interaction and coaching. The online space creates a perfect environment for this powerful way of working.
♦ Recordings of ALL Classes
All classes are recorded so the lessons can be reviewed afterwards.
And there's no need to worry if you have to miss a class – it's easy to catch up!
♦ Weekly Class Summary & Home Implementation Strategy
After each class Imogen sends out a summary of the teachings, including ways for you to practice, implement and integrate what you are learning at home.
♦ Extra Resources
You'll also get handouts, worksheets, special short practice videos as needed.
♦ Support Between Classes
Get feedback, answers, and support from Imogen between classes via email or in a private Facebook group.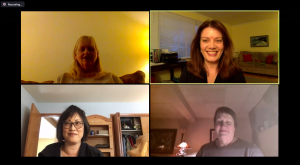 "You're helping us change our relationship with what we do everyday, and that changes our whole experience of it."
Shay Seaborne, Past Participant
Registration Now Closed
Contact Imogen for information on the next program.
---
BodyIntelligence Essentials Program fee: $297*
Early bird discount – pay $197* when you register by July 8 and save $100.
Use coupon code EASE4U when you sign up to get the discount.
*Don't let cost be a barrier. If you have a sincere interest in this program, please contact me to find out about scholarships and other options.
No more than 8 people will be accepted into the program at one time. Register now to ensure you get a place.
"After a nasty fall several months ago, what I learned in Imogen's program has helped me cope better in various ways as I rebuild my life, and I'm now able to walk with less fear and more ease. The improvements I experienced were not "just" of a physical nature, though. I was surprised and delighted to also have an improved outlook in life! Imogen's program has helped me appreciate and experience the true value of being able to pause, and her work can help you with life's transitions and goals."
Patricia (Penny) Peterman, Past Participant
Registration Now Closed
Contact Imogen for information on the next program.
One you've registered, you'll receive an email confirming your participation, a special link to join the online classes, and other information to get you started.
"The six-week BodyIntelligence Essentials Program with Imogen had a profound effect on me both personally and professionally. The permission and support that she gives is incredible.  It has been a liberating experience to find myself living in a new thought paradigm, one in which I have way more capacity to choose to focus on ease, rather than to get caught up in fear, doubt or anger.
"As a trauma-informed, resiliency-focused somatic movement therapist and mental health counselor, I came to this six-week workshop with my own established framework for supporting my clients.  I didn't expect this work I was pursuing for myself personally to spill over so much into my professional approach: however, in this six-week series I discovered some pieces to my own approach that I had not known were missing. The BodyIntelligence framework provides invaluable tools for building new pathways between the way we think, the way we feel, and the way we move. Since my time studying with Imogen, I have incorporated aspects of her approach into my own framework with clients and since doing so I have observed over and over again that these practices have a way of gently and persistently transforming a person's internal landscape toward more resiliency."
---
Special Bonus
When you register for the program, Imogen will also send you her popular Constructive Rest Audio Guide.
Constructive Rest is a simple, yet powerful self-care practice to energize and restore body and mind. It helps you to improve your posture, release tension and calm your nervous system so you can be your most efficient, energetic and productive self. All you need are a few minutes of time, a couple of books, and a quiet place to lie down.
You'll get an MP3 audio to listen to while you're lying down, and a written guide containing all you need to get you started, as well as additional tips and suggestions for alternative positions.
Constructive Rest is the perfect accompaniment to the BodyIntelligence Essentials Program, and will help you get started on your path to ease right away.
Imogen's voice is soothing and pleasing; her instructions are clear and detailed. I am so glad that I can listen to the guide whenever I wish. I highly recommend it and everything that Imogen does in the AT field.
—Suzanne Stroh, San Francisco Bay Area
---
About Imogen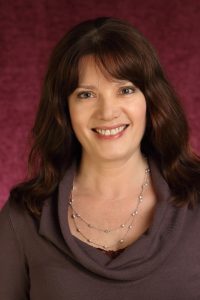 Hi! I'm Imogen, the creator of the BodyIntelligence programs that help women transform stress and tension into ease, confidence, and poise, using the Alexander Technique.
The BodyIntelligence approach helps you create an embodied mindfulness that you can rely on in all sorts of situations, from speaking in public to sitting at the computer. A unique feature is that as your nervous system calms your posture improves naturally as you release the tensions that literally pull you out of shape.
I have over 14 years' experience teaching this transformational work, and almost 20 years as a student. To qualify as a nationally certified teacher of the Alexander Technique I completed a three-year training course approved by the American Society for the Alexander Technique (AmSAT) which included over 1600 hours of instruction. I have been teaching online classes and sessions for over six years.
I continue learning every day, and attend continuing education classes, workshops, conferences and exchanges with colleagues regularly.
Visit imogenragone.com for more information on Imogen's work.
---
If you're ready to have more ease in your life, the BodyIntelligence Essentials Program will help you lay the foundation.
Registration Now Closed
Contact Imogen for information on the next program.
I look forward to welcoming you into this empowering program so you can discover what BodyIntelligence can do for you.
If you'd like more information, please get in touch, and I'm happy to answer your questions.